In the first phase of its go-live schedule, ONDC network is enabling grocery and F&B sellers to reach out to customers in 101 pin codes in Bangalore. This is going to be a great leap for SMEs in the kirana segment who have mostly been catering to customers from their brick and mortar shops.
However, the grocery sellers are still not sure about the process and formalities needed to be a part of the open network. To help our merchant clients onboard ONDC network seamlessly, Mystore - the ONDC network connected marketplace brings a step-wise guide along with the benefits of joining the new open network set-up.
ONDC network is set-up to initiate the SMEs in the digital economy and offer them the same benefits that bigger players have. Registering and selling on the digital network opens up pan-India markets for kirana sellers of every scale and size.
Here is what grocery merchants can achieve by selling on the open digital network:
Go online quickly using the prominent seller apps like Mystore

Partner with the best tech, logistics, and other solution providers to build a solid digital presence

Decide their own terms of service, delivery time etc. unlike the code they have to follow when selling through marketplaces

Reach customers across India

Boost profitability by deciding their own prices, offers etc.

Have access and ownership of customer data in their dashboard

Portability of reputation and customer feedback throughout the network

Democratic, undiscriminatory environment to flourish business
With so many advantages, registering on the open network for digital commerce is a much-needed step for kirana sellers still selling offline only.
Grocery sellers who have not yet been able to build their digital presence can accelerate their growth immensely by getting on the ONDC network. Here are some benefits which food and everyday essential retailers can gain by joining the open network: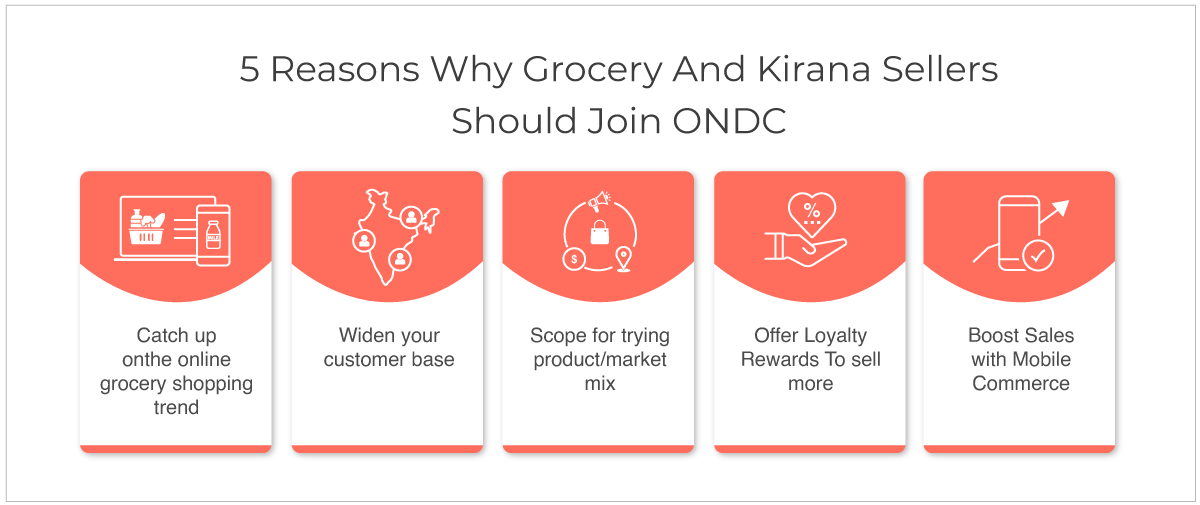 While the online shopping trend was already catching up, the pandemic gave a huge push to buy everyday essentials online. The online grocery market in India is worth over INR 100 billion in 2019 and is expected to reach INR 1,170 billion by 2024. Also, the online grocery market is forecasted to register steady growth in the coming decade at a CAGR of 32.7% through 2032.
ONDC network presents the right platform at the right time for merchants planning to sell grocery online. and benefit from the growing boom in the industry. However, to get started quickly and effortlessly, kirana sellers need to register with a feature-rich ONDC network seller app like Mystore which is built on cutting-edge technology and offers a host of features to make online selling easy.
Grocery sellers' clientele is usually limited to a given neighbourhood. They have limited visibility and opportunities to scale through their offline sales channel. By joining the open digital network, everyday essentials sellers can quickly widen their reach and customer base as they can now be discoverable in other hyperlocal areas as well as to customers beyond their city.
By getting connected to the ONDC network through the Mystore marketplace, retailers for everyday essentials can use a host of features like integrated shipping, a variety of payment options etc. to make payments easy and deliveries smooth. Streamlining payments and deliveries can further build their reputation as a seller on the ONDC network and help them get more customers in the long run.
Grocery sellers have a good understanding of hyperlocal demands and customer preferences. When they plan to experiment with new products in a limited set-up (offline store) they might have limited opportunity to introduce a new product to their customer. However, through the open network, they can be more experimentative and showcase a variety of new products for their customers. For instance, grocery sellers can sell ready-to-use dosa batter, instant food mixes from reputed brands in areas of the city with a heavy density of working people.
Picking up customer responses for new products and tweaking their catalogs accordingly can give kirana sellers a winning edge. To implement such changes quickly, sellers need a feature-rich ONDC network seller app like Mystore that gives them comprehensive order and product management solutions to quickly upload new catalogs.
While acquiring new customers is important, it is equally important to retain existing buyers. Research suggests that 65% of a business's revenue comes from existing customers. Also, a 5% increase in customer retention boosts profits by 25% to 95%. With such promising data it is imperative for grocery sellers to find ways to keep their customers loyal to their business.
Since ONDC network gives its sellers the freedom to engage customers in whichever way they like, kirana stores can come up with their unique loyalty discounts, value-added services etc. to engage convert and retain their customers. With Mystore app sellers can integrate with their preferred marketing tools to implement a variety of deals and offers for their customers.
70%-80% online grocery shoppers search for products on their smartphones. Being easily searchable and discoverable on mobile devices is essential for sellers aiming to reach a wider audience base through ONDC network.
Mystore seller app is built on cutting-edge mobile-first technology making it easier for kirana sellers to leverage the mobile advantage. Mystore ONDC network seller app offers a mobile interface which enables sellers to manage their complete business on the go.
Kirana retailers can start selling on the Open Network for Digital Commerce in the following easy steps:
Type www.mystore.in and go to the seller section to create your account by adding your GSTIN and bank account details

Upload your product catalogue

Start receiving grocery orders from area you have specified while registering ( you can set delivery within a given range or sell anywhere)

Choose your preferred shipping partners on Mystore to fulfil your orders

Get the your payments into the bank account mentioned while registering on the ONDC network
That's all, with 5 simple steps you have started your online journey on open digital network.
The ONDC network set-up is going to be a game changer for SMEs planning to foray into online markets. Grocery sellers can be the biggest beneficiaries of this initiative if they make an early start and plan strategically to reach, engage and retain a wider customer base.
To make the best of the opportunity, kirana sellers can get started by registering on Mystore- the ONDC network-connected marketplace. Mystore does not charge any fixed subscription costs from sellers. Once they start getting orders they only have to pay a certain percentage per order. This flexible model of Mystore makes it most suitable for businesses that start small and quickly grow their customer base. Mystore seller app is very easy to use even for sellers who have no prior experience selling online. The intuitive and simple admin dashboard makes it easy for sellers to manage and grow their businesses quickly.
Ready to grow your grocery business? Register free of cost on Mystore right away!