With its Beta launch in Bangalore, ONDC network is set to revolutionize the ecommerce industry as a whole. Home decor is expected to be the next category going live after successful deliveries from grocery and F&B segments. ONDC network has opened up new business opportunities for sellers who are looking forward to growing their business quickly.
The sellers can get themselves registered on the ONDC network and reach new markets across India. Selling through the ONDC network will give a competitive edge to home decor sellers as they can explore physical sales channels. Also, if they use an advanced seller app like Mystore, they can have their own website and sell to their customers via multiple digital channels.
Let us understand ONDC network and its seller app.
The ONDC network is a novel initiative that will be connecting millions of sellers with buyers across India. They will be free to decide their own terms of service, returns, refunds, prices, etc. To sell via ONDC network, retailers from home decor and other industry verticals would need an e-commerce enabler to help them get started with selling online.
Mystore seller app provides the merchants a platform to create their own ecommerce presence without the sharp commissions that marketplaces charge. It offers a feature-rich admin dashboard and a gaumt of built-in tools that help manage the end-to-end business processes easily. Even novice sellers with little technical to no technical knowledge can work easily on Mystore seller app and manage their busienss seamlessly.
Along with streamlining business, Mystore also offers integrated payment and logistics solutions. Mystore offers a seamless online journey to help its merchant clients set up their business for growth. Mystore seller app is open for free registration for home decor sellers along with any other sellers accross diverse industry verticals.
To start selling on ONDC network, business can take the following steps:
Create your account on Mystore seller app with your GSTIN and bank details

Upload your home decor product catalog

Start getting orders from customers across India

Align your orders for timely nationwide deliveries

Get your payments in the bank account of your choice
And yes, that's it. You have successfully created your ecommerce account on the Mystore seller app.
The government-backed initiative, ONDC network, has been developed to help the SMEs look beyond big marketplaces and establish themselves on the digital platform. Growing in the ecommerce industry requires strategic planning and the right ecommerce solutions. However, with the ONDC network set-up, businesses can enjoy a seamless transition from offline to online market by getting access to millions of buyers and advanced ecommerce solutions like Mystore.
Let us look at a few reasons why sellers should join ONDC network:
Run the business as they prefer by deciding their own return policies, delivery timings etc

Reach customers from every corner of the country

Create their own reputation with customer feedback throughout the ONDC network

Expand their business in a free and non discriminatory environment

Experience full control over pricing and discounts to improve profit margins

Get access to valuable customer data and plan marketing strategies accordingly

Get a variety of service providers like tech solutions on the same network

Kickstart their online journey with a cutting edge ONDC network seller app like Mystore
The seller app is designed to benefit the SME businesses in many ways. Given that, it's time sellers look at the brighter side of going online and connect with the ONDC network.
The online market size of home decor in India is forecasted to grow by USD 3.75 billion, accelerating at a CAGR of 10.24%, between 2021 and 2026. The sellers contemplating going online can launch their digital presence effortlessly with reliable seller apps like Mystore.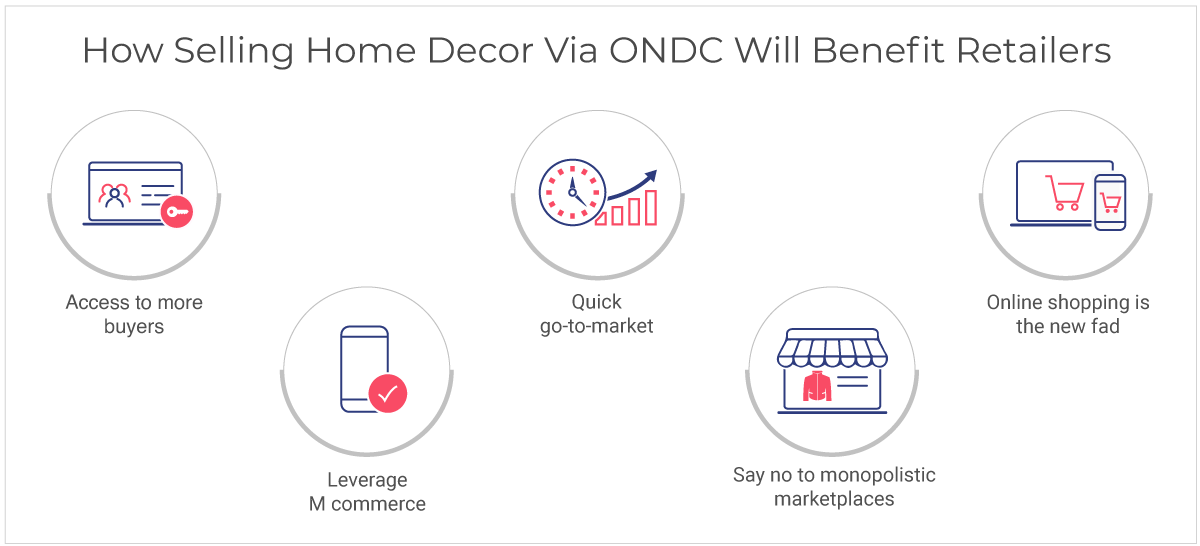 Here are some benefits which home decor sellers can gain by joining ONDC network:
Businesses are usually skeptical about going online as it requires them to extensively plan and strategically calculate each move. But the ONDC network will be a boon for sellers who are willing to expand to online markets. The open network offers businesses access to multiple user segments and helps grow their customer base pan-India.
Home decor sellers can sell better with no additional efforts required to register their presence in the online market. All they need is a cutting edge seller app like Mystore. Once the sellers have created an account and uploaded their products, they can start selling immediately to millions of customers across the country. With a gamut of features like integrated shipping, payment methods,etc, sellers can streamline their day-to-day operations and acquire new customers at much lower costs.
The leading factor driving the growth of the online home decor market in India is the constant rise in online spending and smartphone usage. To tap into the untapped market in Tier II, III, and beyond cities, businesses need cutting edge m commerce solutions.
Being easily accessible on mobile devices has proved to be the most beneficial way of getting noticed and reaching a wider audience. However, it can be a daunting task to build m commerce solutions from scratch. The sellers can choose to register on ONDC network with the Mystore seller app that offers advanced m commerce solutions and a mobile admin interface that enables the sellers to manage their day-to-day businesses on the go.
India's home decor market is estimated to be $ 32.14 Bn in 2022. To capture the most of the online market, it is important to launch quickly. Wondering how to go about it?
Well, with ONDC network, businesses can go to the market in record time just by registering on the network with the help of a powerful platform like Mystore. Sellers can also leverage the first mover's advantage and build their brands quickly by starting early on the ONDC network seller app. The ONDC network connected marketplace, Mystore offers end-to-end ecommerce solutions to launch the online stores for retailers and also creates seamless buyer journeys. With a variety of tools at their disposal, sellers can also promote their brand, accept frictionless payments, and deliver orders quickly to their customers.
The popular online marketplace giants eat up a major part of the sellers' profits while offering access to a wide range of customers. The sellers are forced to sell on multiple marketplaces to leverage the huge traffic they provide.
However, selling on the open network will bring a major breakthrough for all sellers. Home decor sellers can start selling on the open network portal via the ONDC network connected marketplace Mystore and break free of high commission rates. The sellers will however still have to pay a commission to ONDC network, it will be a fraction of what they pay to these monopolistic marketplaces.
When businesses register on Mystore as a seller and upload their products on the site, customers can find them using the buyer apps and their products in the search results. With the in-built OMS of Mystore, sellers can easily manage their products.
There were approximately 150 million online shoppers annually in 2020. India is projected to have 214 million hyperlocal e-commerce shopper by end 2022. This massive increase in numbers and change in buying habits can be used to build a successful online business.
With ONDC network home decor stores will get an opportunity to claim a fair share of the online market. The tech-savvy customers today like to explore hundreds of options before making a purchase. When the sellers are able to cater to this buyer segment through ONDC network, they can get recognized quickly and penetrate deep into the market.
The ONDC network set up is here to restructure the ecommerce market in India. To grow quickly sellers need to make the most of the opportunity and register early on the ONDC network seller app.
Mystore offers a well rounded feature rich ONDC network connected platform for businesses of every scale and size at ZERO fixed subscription charges. The platform makes online selling easy and hassle free. It offers a seamless buying experience to customers and is built on mobile-first next-gen tech stack. The easy-to-use Mystore seller app helps sellers manage their business effortlessly and grow fast by reaching new customer segments.
Ready to grow your home decor brand? Register free of cost on Mystore right away!