ONDC Network or Open Network for Digital Commerce Protocol is an innovative technological initiative aimed at revolutionizing and democratizing India's digital commerce ecosystem. The main objective of the open network is to establish a fair and transparent digital commerce network, promoting healthy competition, empowering consumers, and ensuring ease of use.
The Government of India-backed initiative offers a level playing field for all businesses of all scales and sizes and tackles the existing challenges of ecommerce marketplaces like hefty commissions, unfair competition, contractual lock-ins, biased ranking algorithms, and minimal transparency.
In this blog, we present to you a comprehensive guide on what is ONDC network, what has been its journey so far, what is the future roadmap and how sellers and buyers can benefit from the open network. We will also explore the order process to sell on the ONDC network and buy from the open network using the Mystore Apps for sellers and buyers.
It won't be an exaggeration to say that the ONDC Network is all the existing good things about ecommerce plus everything that sellers and buyers wanted from ecommerce. The ONDC Network project is going to be a game-changer by introducing a new way of online buying and selling which is beneficial for all parties involved.
The ONDC network enables sellers and buyers across India to connect with each other on a secure network. It is not a platform or an app rather a network where sellers can display their products to all the buyers ( irrespective of whichever buyer app the buyer is using) across India. Similarly, buyers can discover all the products sold by the sellers on the ONDC network irrespective of which seller app they are using.
Whether it is an SME, D2C brand, B2B enterprise or any other type of business, with the ONDC network, all types of sellers can access top-notch technology and other services needed to build, run and grow their online business.
On the buyers' side, the ONDC network aims to offer the convenience of shopping a variety of things from one app. Due to its massive seller pool, the ONDC network offers a huge and diverse catalog to buyers. By using one of many buyer apps for ONDC network, buyers will be able to shop for a variety of things ranging from groceries to food to mobility services like hailing a cab.
The ONDC network is not only bringing innovative disruption but is also offering a multitude of choices to buyers and thus reshaping the ecommerce landscape in India. The ONDC network simplifies online shopping and eliminates the need for having multiple apps to buy different kinds of products and services.
The Open Network for Digital Commerce Protocol is a departure from traditional platform-centric e commerce business models. In a traditional online marketplace system, sellers have to register on different marketplaces to reach a large customer base. Sellers also have to abide by the rules and regulations unique to each marketplace. Buyers on the other hand have to use different apps to search, discover and buy products.
The ONDC network simplifies the whole process for buyers and sellers. Just by using one single app buyers and sellers can easily buy or sell pan-India.
Built using modern technology protocols, the ONDC network is changing the way ecommerce used to connect buyers and sellers. Here is how the technology enables the ONDC network to build a transparent, interoperable infrastructure to usher in a new era of ecommerce.
Built on blockchain technology, the ONDC Protocol ensures a secure and transparent network where sellers and buyers can freely sell and buy goods and services. To maintain transparency all transactions on the network are recorded using blockchain technology.
The backend of ONDC network is developed using the Beckn protocol. Beckn helps in maintaining standardized commercial transactions in a decentralized digital commerce set-up.
Due to the use of the Beckn protocol, products and services listed on one ONDC Network seller app are visible to buyers on all the ONDC Network buyer apps. Beckn makes it possible for businesses to leverage the power of digital commerce by offering a decentralized open-protocol system.
Sellers can easily and quickly join using one of the seller-side applications like the Mystore Seller App for ONDC Network. Here are the 5 easy steps in which sellers can list and sell on the ONDC Network:
Step 1- Register and create your account on https://seller.mystore.in/en/ by providing GSTIN and bank account details
Step 2- Upload and list your products, add high-resolution images, product descriptions etc. to help your buyers understand your products better
Step 3- All your products are discoverable now across the ONDC network. Once a buyer places an order for your product you will get the confirmed order notification.
Step 4- You can choose from one of the many on-network logistics partners to avail of discounted logistics or can use your own off-network logistics partners to dispatch your orders.
Step 5- Once your product is delivered you get your payment directly into your account ( after the stipulated delivery and return period )
That's it ! this is how simple it is. You do not have to bear any upfront costs to start selling through Mystore seller app. There are no fixed subscription charges either. You will just have to pay a nominal transaction fee per order once you start getting orders.
Sellers from any industry vertical can register on the ONDC network. Mystore has MSMEs, FPOs, D2C brands, and enterprise businesses with a strong client base on its ONDC Network-connected marketplace Mystore.
Here is how buyers can use the Mystore buyer app to search, order and get a product delivered to their doorstep. Let us take the example of a buyer Ashok planning to buy a mobile phone. Here is the step-wise buyer journey on the ONDC network.
Step 1- Ashok uses Mystore Buyer App to search for mobile phones on the ONDC network. He can either download Mystore's buyer side app or use the Mystore website to search for his desired smartphone.
Step 2- To begin his search Ashok will enter his pin code and type his search phrase, say " mobile phone under Rs 15000" or " budget mobile phone" etc. Mystore app uses its advanced search filters to show results based on an ONDC Protocol-approved algorithm which favors hyperlocal sellers.
Step 3- The search result will show all the sellers selling phones matching the search criteria. Whether the seller is on the Mystore seller app or any other, they will be visible to all the buyers searching for their products. However, the ONDC Protocol algorithm will show hyperlocal sellers first.
Step 4- After comparing ( based on price, specifications, delivery time etc.) the different phones from various sellers, Ashok can select the final product he wants to buy.
Step 5- For placing the order, Ashok will duly fill in mandatory information like shipping address, contact details etc. and make payment by choosing his preferred payment method.
Step 6- Once the order is placed Ashok will get an SMS from the Mystore buyer app for order confirmation via email and SMS with details of the order, delivery date estimate and order ID.
Step 7- After receiving the order for Ashok's phone, the seller gets order details in his admin panel. He will now package the order and prepare for shipment choosing either one of the on-network logistics partners or his preferred off-network delivery partner.
Step 8- Once the order is shipped Ashok gets tracking information in his Mystore buyer app's admin panel using which he can track the order until its delivered.
Step 9- Ashok can also connect with Mystore support in case there are some issues/delays with the order.
That's it! Product search to order delivery just takes 8 simple steps! The support and grievance redressal is also taken care of so customers can do hassle-free shopping on ONDC Network.
The Open Network comes with numerous benefits for the sellers as well as the buyers. By connecting millions of sellers and buyers through the open network, the open network for digital commerce protocol opens up new opportunities for both parties.
When sellers register on ONDCNetwork they get the following benefits: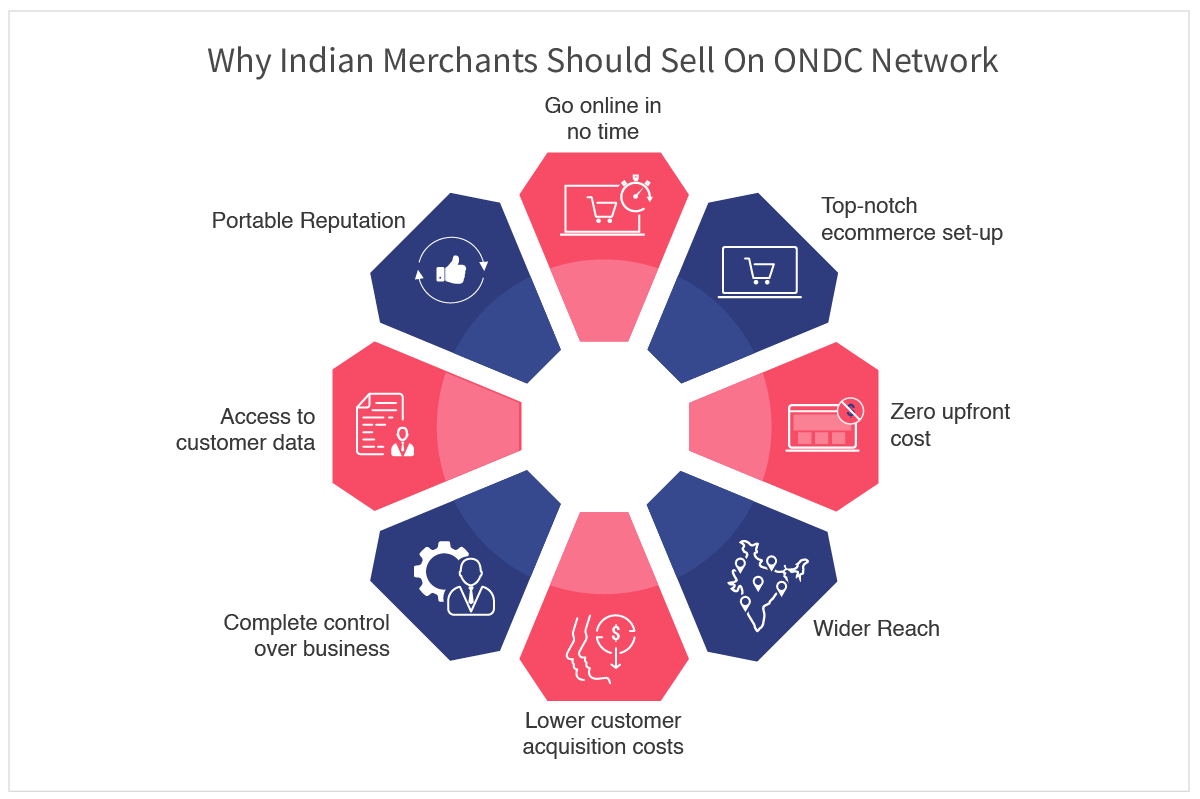 Go Online in No Time: With the multiple seller apps of the open network, it becomes easy for MSMEs to experience digital commerce and add a new sales channel to their business.
Top-Notch Ecommerce Set-up: With a host of seller apps to choose from, sellers get top-notch plug-and-play ecommerce solutions to begin their online journey.
Zero Upfront Cost: Many seller-side interfaces like the Mystore seller app make it possible for sellers to go online at zero upfront cost. Sellers just need to pay a nominal commission when they receive an order.
Wider Reach: Sellers get pan-India discoverability for their goods and services with a focus on hyperlocal discoverability which fosters business in local markets and helps in saving operational costs.
Lower Customer Acquisition Costs: Selling on the ONDC Network takes your business to new markets and customers which automatically reduces customer acquisition and marketing costs.
Complete Control Over Business: While selling on the open network sellers are free to make their own business rules regarding price, business policies, return and refund etc.
Access to Customer Data: Open network, unlike marketplaces, gives sellers complete access to their buyer data thus helping in making strategic business decisions for growth.
Portable Reputation: Sellers can carry their reputation even if they want to switch from one seller app to the other. This gives greater choice and flexibility of choosing the best apps when they sell on the ONDC Network.
For buyers the open network offers the following advantages:
Abundant Choices: ONDC Network joins thousands of sellers from across the nation and makes vast and varied catalogs easily available to buyers.
Competitive Pricing: Thanks to the multitude of sellers who sell on ONDC Network, buyers get competitive pricing. Also, since sellers don't pay high commissions they pass on price benefits to buyers.
Deals and Discounts: The ONDC Network as well as its sellers keep offering exciting deals and discounts making buying on the open network a smart choice for prudent buyers.
Hyperlocal Shopping: When sellers register on the ONDC Network they have to specify their location. The inherent algorithm on the open network shows hyperlocal sellers on top in search results. For buyers, this translates into faster deliveries and also less cost in some cases as local sellers can deliver faster.
Government Backing: The open network is backed by the Government of India making it a secure and reliable shopping option for buyers. Shoppers can be assured of the credibility of sellers on the network.
Customer Support: The onus of sorting customer grievances is on the sellers as well as the buyer/seller apps. Users can get help if needed for queries regarding their orders.
With so many advantages, the open network is definitely worth exploring for buyers across India.
The open network is available in 200+ towns and cities across India. In coming months the open network will expand its operations to many more cities.
Following are the cities where ONDC Network is available as of now:
Bengaluru: ONDC Network's pilot launch was done in selected pin codes of Bengaluru and now it covers a wider area.
Bagalkot: Bagalkot is another city of Karnataka with a strong presence of the ONDC Network .
Chennai: Residents of Chennai can easily buy a variety of stuff from sellers on the open network.
Delhi NCR: This includes Gurgaon, Noida, Ghaziabad, Meerut ( first tier II city to join the ONDC Network), and Faridabad.
Hyderabad: Hyderabad residents can order seamlessly from hyperlocal and pan-India sellers on the open network.
Kolkata: Coverage through multiple pin codes in Kolkata, West Bengal.
Kanchipuram: The temple city is also one of the early cities to be included in the serviceable areas of the open network.
Lucknow: Residents of Uttar Pradesh's capital city are also lapping up the benefits of buying from the open network.
Maharashtra: Functional in Pune, Mumbai, Thane, Navi Mumbai and Nashik.
The list ONDC Network cities is regularly updated. The goal is to take the network pan-India in the coming months.
Here is a detailed comparison of how the ONDC Network's hyperlocal shopping app is different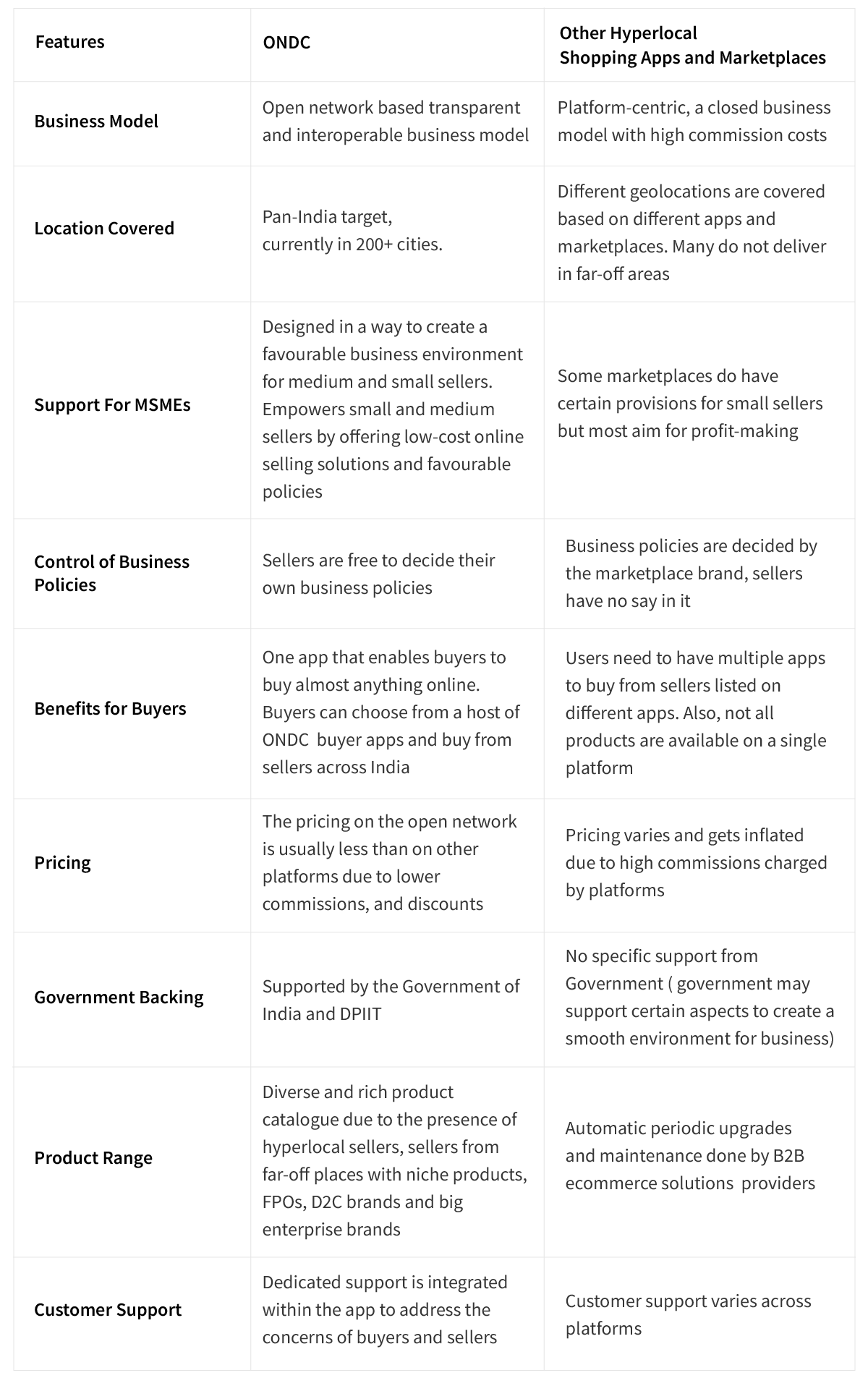 Whether you plan to buy on ONDC Network or start selling on it, the open network is a win-win proposition for all.
Built on cutting-edge MACH architecture, Mystore offers a plug-and-play solution to start selling on the ONDC Network. For zero subscription costs, Mystore enables you to easily leverage its state-of-the-art admin panel to manage all aspects of your online business. Businesses of every scale and size and industry vertical can use the Mystore Seller App to register and sell on the ONDC Network.
Why sell on ONDC Network with Mystore
Here are the top-notch features that Mystore provides to its ONDC Network-affiliated merchants:
Get started without any upfront costs
No fixed subscription charges
Comprehensive admin panel in multiple languages
Unique QR code to help buyers reach your seller page directly
Built-in SEO and marketing tools
Customer and order-based reports
Multiple payment gateways
Mobile-first tech with M-commerce capabilities
Set up to automate off-network logistics from your admin panel
Channel integration to support quick upload of products from existing Shopify, Magento, Amazon or WooCommerce catalogs
Get ready to leverage the ONDC Network and take your business to a wider customer base. Explore better opportunities and set up your business on a growth path with Mystore right away.
The ONDC Network has changed the way we imagined and experienced ecommerce. By enabling small sellers and businesses from rural markets to join the digital commerce revolution, the open network has brought Indian haats and bazaars to mainstream ecommerce.
With plans to expand the network in terms of geolocation, industry verticals as well as diverse business models ( like B2B, D2C, B2B2C etc.), the ONDC Network is all set to bring huge benefits to Indian buyers and sellers.
Get ready to claim your share in the revolutionary new world of Indian ecommerce. Start selling on the ONDC Network by registering on Mystore right away.