Amazon Channel Integration
Amazon India has given online merchants the means to a successful eCommerce business. With a dedicated Amazon store, you can cater to a broader customer base and fulfil orders all over the country.
Why Channel Integration?
By integrating Amazon with Mystore through APIs, sellers are able to easily manage products, customers, orders, categories, listings, etc., for optimum customer experience.
Amazon sellers in India can seamlessly fulfil orders using Mystore's multi-functional admin dashboard and a plethora of advanced features! You can count on Mystore's feature-rich dashboard combined with order management capabilities to provide maximum customer satisfaction.
With this step-by-step tutorial, vendors can migrate their entire Amazon catalogue with Mystore's dashboard with minimum fuss!
Integrate your Amazon with Mystore with these simple steps:
Step 1. Log into your Mystore seller account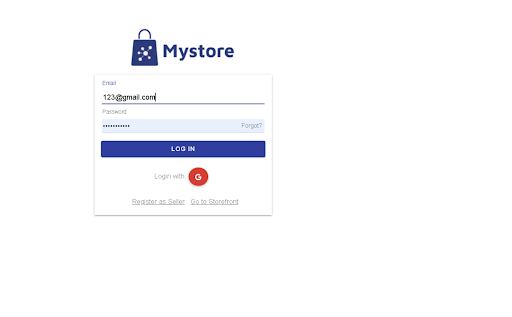 Step 2. In the left dashboard, go to "Channels."
Step 3. Click on the "Amazon" logo from the multiple options.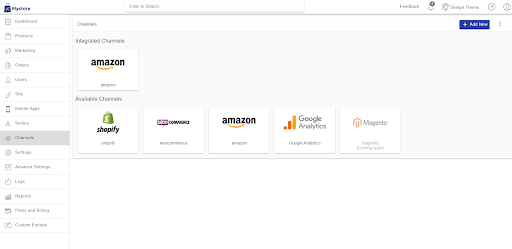 Step 4. Add the Channel Name of your choice in the "Channel Settings" section.
Step 5. Click on the "Authorize" button in "Account Settings".
Step 6. Now, a window will pop up. Simply sign in with your Amazon account to configure the two channels.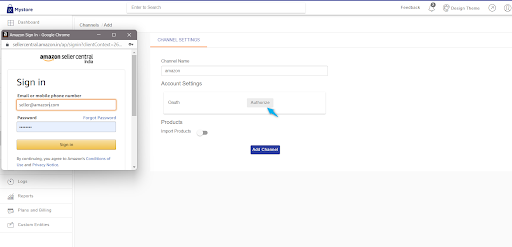 Note: Authorizing Mystore to access your Amazon product listings lets you sync order and inventory information from your Mystore dashboard. After the authorisation is completed, press "confirm" to proceed.
Step 7. Turn ON the "Import Products button.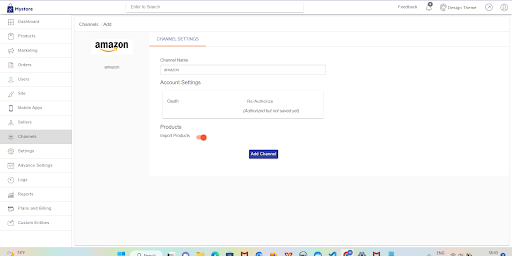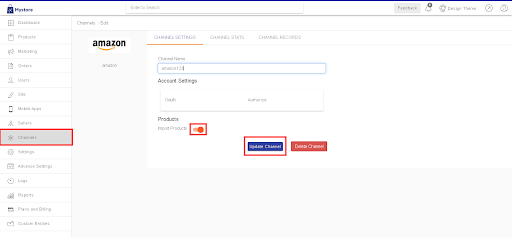 Step 8. Click on "Add Channel".
And you're done! Your Amazon channel is now successfully integrated into Mystore. You can view the channel summary (Channel Stats, Channel Records, etc.) confirming that your Amazon products are synced with your Mystore account.
Important Note:
a) "Channel Stats" can be accessed on your Mystore admin panel, as illustrated here. The entry confirms how many Amazon products are successfully migrated to Mystore.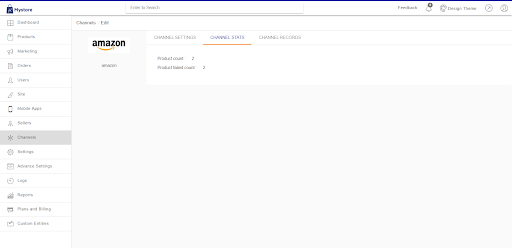 b) "Channel Records" contains the status of the migration of each product entry. "Channel Records" is updated within a few minutes after a new entry.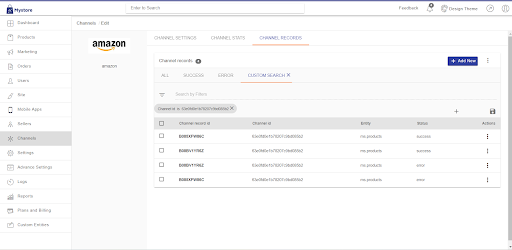 Step 9. Go to Products >> Published. All your synced products should now be displayed on the Mystore dashboard.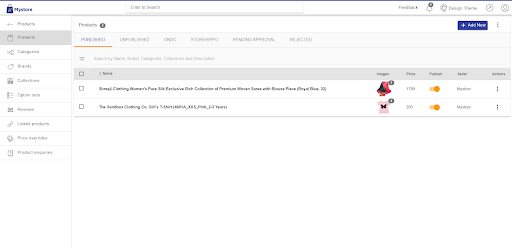 Important Note: From here, you can verify and track orders directly from your Mystore admin panel. Just keep a few points in mind when integrating your Amazon channel with Mystore -
Future orders can now be processed through Mystore.
Mystore offers 'catalogue pull', 'order pull', and 'Inventory push' capabilities.
You can seamlessly handle shipping with Mystore. Various tracking details and invoicing can be accessed through Mystore's admin panel.
For every sold product, the full payment is credited to manually your bank account every Friday (subject to the order's returnability).
Status sync will work for Cancelled/Dispatched/Return Status.
Add your preferred sales channel from multiple available options (Amazon, WooCommerce, Shopify, etc.).
P.S. Mystore users will soon be able to trigger "customer migration" and "order migration". So stay tuned!