Managing Products
Managing products is the most essential part of setting up your store. The products section lets you view, add, update, and organize all of your products.
Go to the Products > Products section in the Mystore Admin Panel to manage the products of the store.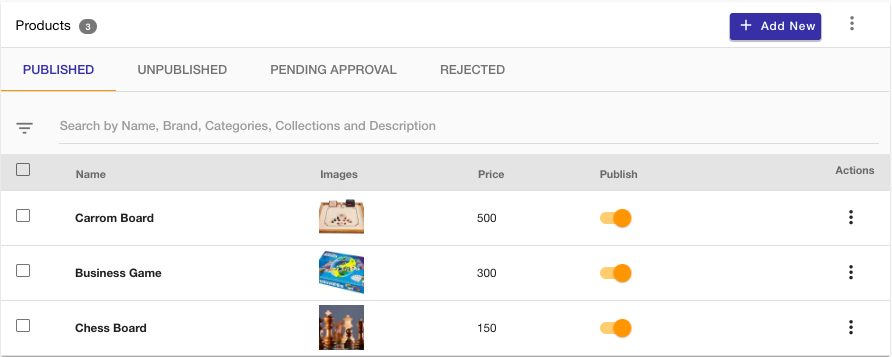 In the products section, all the products of your store are listed. You can manage and perform operations on your products here. There are four tabs present for the listing of products.
Published: The Published tab lists the approved products which are published.
Unpublished: The Unpublished tab lists the approved products which are unpublished.
Pending Approval: The pending Approval tab lists the products which are pending approval by the admin.
Rejected: The Rejected tab lists the products which have been rejected by the admin.
Adding a product
Mystore provides you with an easy and effortless way to add products. Click here to know more about adding the products.
Importing Products
Using the Import feature, you can add or update multiple products at the same time. When importing products, you can specify the data in simple CSV format. Mystore uses the data from your CSV file, processes it, and turns it into products in your store. Click here to more about importing products.
Exporting Products
You can export your products to a .csv file if you want to create a backup or edit your products in bulk using a spreadsheet.
Searching & Filtering Products
When you have listed your multiple products, then searching for a particular product may become challenging. By using the Searching and Filtering functionality, you can easily search or filter your products. Click here to know more about searching and filtering the products.
Operations on Products
You can perform multiple operations on the products in the Mystore admin panel. You can edit, delete, duplicate and perform many other such operations on your products. Just press ellipses under the 'Actions' column to explore these operations.